Get ready for the Garbage-Men, a group of 10th graders who perform music on instruments made from recycled materials like cereal boxes, PVC pipes, and even a saxophone made from a Fisher-Price corn popper toy. The Garbage-Men are performing live throughout NYC this weekend, including two shows at NYSCI on Saturday at 1 and 3 pm.
We're looking for a few hundred makers. Are you one of them? Save the Date and start working on your projects (if you haven't already…) Maker Faire New York is right around the corner and as of this morning, the Call for Makers is open. 
Step one for participating is to submit an entry so we can learn about you and your project. Here's just a sampling of what makes for a great Maker Faire exhibit:
Student Projects
Robotics
Music Performance and Participation
3D Printers and CNC Mills
Textile Arts and Crafts
Home Energy Monitoring
Rockets and RC Toys
Sustainability
Green Tech
Radios, Vintage Computers and Game Systems
Electronics
Electric Vehicles
Biology/Biotech and Chemistry Projects
Food and Beverage Makers
Robotics
Puppets
Kites
Bicycles
Shelter (Tents, Domes, etc.)
Unusual Tools or Machines
How to Fix Things or Take them Apart (Vacuums, Clocks, Washing Machines, etc.
Not planning a project but still can't wait for Maker Faire New York? Standby. Tickets go on sale soon and we'll be warming up all summer with community gatherings, Maker Weekends at NYSCI and more.
Great article by Mommy Poppins on our new Maker Space area at NYSCI. Don't forget that this Saturday 1 – 3 pm we're having a workshop on Drum making in there - and the whole family is encouraged to join in! Free with NYSCI admission.
Ever wanted to connect your Legos and Tinkertoys together? Now you can — and much more. Announcing the Free Universal Construction Kit: a set of adapters for complete interoperability between 10 popular construction toys.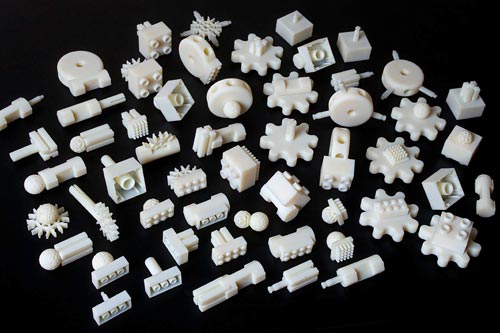 Move over textbooks. Step aside complicated instruction sheets. On Monday, an unusual space opens that will teach kids and adults how to create and build circuits, metalworks, quilts, crafts, robots, and most importantly, that wacky, out-there project that you were told could never be built.
Maker Space is a new area at NYSCI that is made possible thanks to an investment by Cognizant's Making the Future education initiative. The space, designed by the Brooklyn-based firm Situ Studio, will feature workshops on topics like sewing, soldering, and programming using open-source hardware. But the real skills being honed will be collaboration, risk-taking, creativity and innovation. These are skills that are necessary for careers in STEM. And skills that will help prepare the next generation of leaders.
"Curiosity, creativity and collaboration all come together in the activities we have planned for this space…" said Margaret Honey, president and CEO of NYSCI. "The network of collaborators that will work with us in this new venue represent an inspiring pool of talent to give our visitors  – especially young children – the tools they need to nurture the innate human tendency to be creative and see the world differently."
Beginning in May, visitors to NYSCI can participate in workshops and drop-in sessions at the space. Topics will vary but will include sessions on the basics of soldering, sewing (using machines and equipment donated by SINGER® Sewing Company), and circuitry.
So forget your old notions of what you can and can't accomplish. At Maker Space, there's room for all your ideas, but there's no space for limitations.
Most kids dream of being a superhero when they grow up. Adiel Fernandez, science instructor at NYSCI, gets to be one for two days this month.
Or at least he'll look like one, thanks to his project Metal Wings, which he built for this year's World Maker Faire. Inspired by X-Men superhero Archangel, the aircraft-grade aluminum wings have a wingspan of 12 feet and are mechanically controlled by motors. These motors, or more technically "servos", will be connected to special gloves he has created that will allow him to open and close the multiple segments of the wings just by moving his fingers, giving the illusion that the wings are moving on their own. The beating of the wings will also be linked to Adiel's heartbeat, although that aspect of the project may not be ready in time for the Faire.
Adiel came up with the idea for the project about a year ago when his brother showed him photos from a comic book convention. "Archangel is such an interesting character," said Adiel. "His wings are so unique and different from any other winged superhero or villain. I can't believe no one has tried to put together a set of wings like his."
Although he has been "making" since he was a small child (he often took his toys apart to see how they worked), the Metal Wings project included some relatively new territory for Adiel: microcontrollers and metalworking. But in true Maker spirit, he tackled the project anyways.
Check out Adiel's wings along with projects from more than 500 other Makers (all superheroes in our book!) at this year's World Maker Faire, which will be held at NYSCI on September 17 and 18.