from NYSCI President and CEO, Margaret Honey:
Last week, Peter Orszag wrote an article linking summer learning loss with skyrocketing childhood obesity rates.. For decades, educational researchers have studied summer learning loss — sometimes called the "summer brain drain." In short, summer vacation negates some of the learning achieved during the academic year. This is particularly so for children on the lower end of the socioeconomic spectrum.
We don't expect kids to do algebra at the beach, but there's any number of ways to incorporate science and math into their summer schedules. And summer learning is, you know, fun and active.
The world has changed a lot since you were a wide-eyed, innocent kid playing with your handmade sock puppet. Puppets have come a long way too.
This week, NYSCI opens Puppet Parade, a new type of puppetry created by Design I/O that uses computers and Xboxes to merge the movements of real people with projections of larger-than-life creatures. Puppeteers control the animals using their hands and arms. Then their actions are tracked through Xbox Kinects, the data is sent through a computer to a projector, and presto! – a fantastical, interactive scene is displayed on a 17-by-26-foot wall.
The experience includes all the entertainment of that old sock puppet, while also including the interactivity and special effects of today's technology.
We're super excited to announce that Puppet Parade will be at NYSCI April 8th - May 6th 2012. Here are some photos of us getting it setup and ready for the public. See a video of the project here.
Ever wanted to connect your Legos and Tinkertoys together? Now you can — and much more. Announcing the Free Universal Construction Kit: a set of adapters for complete interoperability between 10 popular construction toys.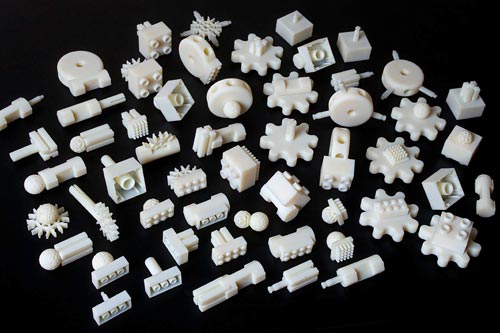 The race is on to get our nation's kids up to speed on science. With U.S. students getting low global rankings in science and math proficiency, the need for innovative ways to interest youth in the sciences has never been more urgent.
We're leading the way with SciGames, a new project developed by SciPlay, The Sara Lee Schupf Family Center for Play, Science, and Technology Learning. SciGames uses technology to turn playground play into interactive games. For instance, by attaching speed sensors to a common playground slide, the slide transforms into a powerful educational tool. Instead of simply racing to the bottom of the slide, kids can experiment with different variables, such as what type of material to sit on as they glide down the slide. This turns the act of sliding down a slide into a fun game that explores science concepts such as friction, and kinetic and thermal energy.
SciGames will also include the development of a mobile app that teachers and students can use to aggregate the data collected during the games on the playground and to conduct analysis of that data back in the classroom. This bridge between formal and informal learning environments is a hallmark of our initiatives to improve and reform education in science, technology, engineering and math.
As a finalist for a $3.44 million grant from the U.S. Department of Education, the SciGames project is poised to reach approximately 8,000 New York students over the next five years. We are one of only 23 foundations, museums and schools that are finalists for an Investing in Innovation Fund, or i3, grant. The i3 program supports projects that will improve student achievement or student growth, decrease dropout rates, or close achievement gaps.
So get ready. If the kids get high marks in this race, we'll all wind up winning.
This is a brief clip introducing a component of a SciPlay research project. Adiel Fernandez discusses the project and a group of visiting students show how it's done.